Earth & Planetary Sciences Faculty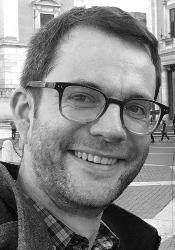 Pronouns he, him, his, his, himself
Title
Division Physical & Biological Sciences Division
Department

Earth & Planetary Sciences Department
Ocean Sciences Department

Affiliations Ocean Sciences Department
Phone
Email
Website
Office Location

Earth & Marine Sciences, A308A

Mail Stop Earth and Planetary Sciences
Mailing Address

1156 High Street, Earth and Planetary Sciences
Santa Cruz CA 95064

Faculty Areas of Expertise

Earth Sciences, Geochemistry, Climatology, Oceanography, Geology

Courses Intro EnvSci (ESCI100A), Intro SciComp (EART119A), Advanced SciComp. (EART119B)
Advisees, Grad Students, Researchers Ryan Green, , Yan Zhang, Madison M Wood, Grace Duran Pearsall,
Research Interests
My research is motivated by a deep fascination for Earth history. In the age of man-made alteration of the environment it is becoming a high priority to develop a detailed understanding of natural geochemical, biological and physical Earth System processes as well as their respective coupling on various timescales. Therefore, I take a computational approach to reconstruct the biogeochemical evolution of the ocean and atmosphere, with a special emphasis on the global carbon cycle and its relationship to the biological utilization of nutrients in the ocean.
Biography, Education and Training
2003-2008: Dipl. Geol. University of Potsdam, Germany
2008-2013: Ph.D. Princeton University, USA
2013-2018: NERC Independent Research Fellow, University of Southampton, UK
2018+ : UC Santa Cruz, Earth and Planetary Sciecnes, Assistant Professor
Selected Publications