Gerald Weber and Suzanne Holt Fund

Purpose: The Gerald Weber and Suzanne Holt Fund ("Weber-Holt Fund") supports meritorious undergraduate students in the Earth and Planetary Sciences Department at UCSC with scholarships for summer field camp.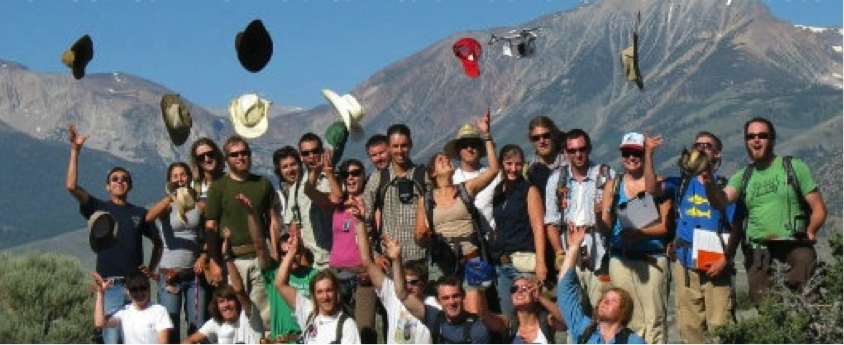 History: The Weber-Holt Fund was established by Gerry Weber and Sue Holt in support of one of the most important parts of the EPS undergraduate curriculum: summer field camp. Participation in a summer field camp is an iconic experience that satisfies the "capstone course" requirement applied to all undergraduates at the University of California. UCSC runs one of the best summer field camps in the U.S., and we are delighted that the Weber-Holt fund supports so many of outstanding EPS majors who participate in this valuable professional experience.
Status: The Weber-Holt Fund is currently endowed with $315k.
Development Goal: Our long-term goal for the Weber-Holt fund is to grow the endowment to $500,000. At this level, return on investment could support $20k in annual scholarships. Given the legacy of support from the Weber-Holt fund, and the number of successful EPS graduates who have participated in our summer field program over the last 40 years, we hope to reach this goal in the next few years.
Our Request: Please donate to the Weber-Holt Fund in support of EPS undergraduate students at field camp. You could make a one-time donation or pledge to give annually.
Please use this link to open a new browser window that contains a form on the UCSC Online Giving page. The form should be "pre-populated" with information indicating your interest in supporting the Weber-Holt Fund.
PDF version of this information
Past recipients of awards from the Weber-Holt Fund:
| | |
| --- | --- |
| 2022 | Sage Moore |
| 2022 | Krisna Supatra-Campbell |
| 2022 | Jack Sullivan |
| 2022 | Rachel Kramer |
| 2022 | Brian Garcia |
| 2022 | Chandler Clarke |
| 2022 | Kate Wollman |
| 2022 | Nessa Fakrai |
| 2022 | Lindsay Jones |
| 2022 | Catherine Allen |
| 2022 | Kiernan Clark |
| 2022 | Max Maier |
| 2022 | Lexi Spencer |
| 2022 | Brooke Santos |
| 2021 | Jaycee Janet Favela |
| 2021 | Roy Alejandro Flores |
| 2021 | Benjamin Royal Grenier |
| 2021 | Dylan Michael Skutches |
| 2021 | Kelsey Lynn Hilton |
| 2019 | Kallee Bareket-Shavit |
| 2019 | Carly Cheap |
| 2019 | Stefani Himes |
| 2019 | Perla Richards |
| 2019 | Madeline Salazar |
| 2019 | Catherine Takata |
| 2019 | Lena Tokmakoff |
| 2018 | Thomas Dewey |
| 2018 | Maia Hoffman |
| 2018 | Noah Lyman |
| 2018 | Richard Nelson |
| 2018 | Ryan Nyberg |
| 2018 | Marissa Taylor |
| 2018 | Dimitri Voytan |
| 2017 | Mckinna Krieghoff |
| 2017 | Sophia Probasco |
| 2017 | Alejandra Rojas |
| 2017 | Jackie Williams |
| 2017 | Seth Williams |
| 2016 | Drew Bogusz |
| 2016 | Genesis Briceno |
| 2016 | Ian Jimeno |
| 2016 | Basia Marcks |
| 2016 | Krista Sawchuk |
| 2016 | Stephany Subdiaz |
| 2016 | Brian Stiebel |
| 2016 | Jason Tran |
| 2015 | Benjamin Dejarnatt |
| 2015 | Priscila Diaz |
| 2015 | Angelo Genabe |
| 2015 | Gabriel Gordon |
| 2015 | Hannah Hagemann |
| 2015 | Seana Hood |
| 2015 | Kevin Jauregui |
| 2015 | Devin Minnich |
| 2015 | Flynn Moore |
| 2015 | Madeline Richards |
| 2015 | Marcus Silva |
| 2014 | Ethan Brown |
| 2014 | Christine Brownfield |
| 2014 | Lauren Fowler |
| 2014 | Jacqueline Hyman |
| 2014 | Alex Mitchell |
| 2014 | Paul Morgan |
| 2014 | Diego Osnaya |
| 2014 | Maciel Peliks |
| 2014 | Grant Rea-Downing |
| 2014 | Madeline Richards |
| 2014 | Taylor Whitehall |
| 2013 | Alicia Balster-Gee |
| 2013 | Brian Cook |
| 2013 | Cory Steinmetz |
| 2013 | Kennan Takahashi |
| 2013 | Kyle Johnson |
| 2013 | Patrick McCarthy |
| 2013 | Rachel Hohn |
| 2013 | Samuel Bold |
| 2013 | Sophie Foster |
| 2012 | Andrea Shisler |
| 2012 | Brooke Norling |
| 2012 | Daniel Cohen |
| 2012 | Gabriel Matson |
| 2012 | Leandra Jacobsen-Guy |
| 2012 | R. Paul Acosta |
| 2012 | Tara Londergan |
| 2012 | Valerie Austin |
| 2012 | Vanesso Lo |
| 2011 | Arthur Platel |
| 2011 | Chelsea Lindgren |
| 2011 | Chrissy Williams |
| 2011 | Coleman Buffa |
| 2011 | David Teimoorian |
| 2011 | Graham Meese |
| 2011 | Jacqueline Liu |
| 2011 | Jenna Stewart |
| 2011 | Katherine Earp |
| 2011 | Timothy Sherry |
| 2011 | Zachery Mayo |
| 2010 | Alex Rosenthal |
| 2010 | Christopher Gallagher |
| 2010 | Elena Sipe |
| 2010 | Evan Wolf |
| 2010 | Greg Larson |
| 2010 | Harrison Gray |
| 2010 | Sarah Overton |
| 2010 | Shawn Keefauver |
| 2009 | Aaron Masters |
| 2009 | Jessica Tibor |
| 2009 | Jon Gamble |
| 2009 | Katherine Turkle |
| 2009 | Kevin Walker |
| 2009 | Lia Lajoie |
| 2009 | Lisa Gerencher |
| 2009 | Robert Grebe |
| 2009 | Ryan Haupt |
| 2008 | Corina Forson |
| 2008 | Devon Orme |
| 2008 | Justin Woodjack |
| 2008 | Lucas Joel |
| 2008 | Melissa Usack |
| 2008 | Nadine Periat |
| 2008 | Paul Talmage |
| 2008 | Samuel Johnstone |
| 2008 | Shane Wakefield |
| 2008 | Tim Cramer |
| 2007 | Anna Peters |
| 2007 | Devon Santy |
| 2007 | Erin Male |
| 2007 | Katherine Lawrence |
| 2007 | Maggie Brewer |
| 2007 | Matthew Uddenberg |
| 2007 | Mauricio Prado-Gomez |
| 2007 | Michelle Bourret |
| 2007 | Miljan Draganic |
| 2007 | Ron Meserve |
| 2007 | Scott Chapin |
| 2007 | Steven Fercho |
| 2007 | Tess Bakke |
| 2007 | Tracy Miller |
| 2007 | Veronica Phillips |
| 2007 | Xochi Gutierrez |
| 2006 | Elizabeth Bigsby |
| 2006 | Eric Aguilar |
| 2006 | Eron Fitt |
| 2006 | Ian Hull |
| 2006 | James Whearty |
| 2006 | Marci Beitch |
| 2006 | Michael McDonald |
| 2006 | Renee Jones |
| 2006 | Samuel Loforti |
| 2006 | Sarah McNaboe |
| 2005 | Aaron Powers |
| 2005 | Benjamin Melosh |
| 2005 | Cara Russo |
| 2005 | Eduardo Pech |
| 2004 | David Millar |
| 2004 | Edward Farinsky |
| 2004 | Lia Holden |
| 2004 | Matthew Coats |
| 2004 | Peter Garaffo |
| 2004 | Taylor Davis |
| 2003 | Anne Partmann |
| 2003 | Brooke Crowley |
| 2003 | Jered Chaney |
| 2003 | Krystal Green |
| 2003 | Nathan Holland |
| 2003 | Rachel Peavler |
| 2003 | Randy Goetz |
| 2002 | Cara Clark |
| 2002 | Nathan Casebeer |
| 2002 | Paul Nelson |
| 2002 | Tara Howard |
| 2001 | Johnny Sanders |
| 2001 | Kate Bolton-Schmukler |
| 2001 | Louis Arighi |
| 2000 | Ann Altstatt |
| 2000 | Megan Schroeder |
| 1999 | Danielle Widemann |
| 1999 | James Loetterle |
| 1998 | Brenda Beitler |
| 1998 | Joshua Caulkins |
| 1998 | Robert Peters |
| 1997 | Darren Croteau |
| 1997 | Diann Neenen |
| 1996 | Kari Fox |
| 1995 | Carrie Randolph |
| 1995 | Rob Meyer |